In Addition
Vol 13 Issue 1
January / February 2022
---
1. Health Tips
Promote Health with Pulses in Diet
Catering to the cravings of the tongue and swallowing heavy foods three or four times a day can only add to the heap. Regular and limited intakes alone can enable a person to discharge one's duties…Sathya Sai Baba1
1. What are pulses
Pulses are edible seeds that grow in pods which are multi-seeded fruits of leguminous plants harvested solely as dry grains, unlike vegetable crops. They include a variety of lentils, peas, and dry beans. Pulse crops use less water than other crops, help in minimising greenhouse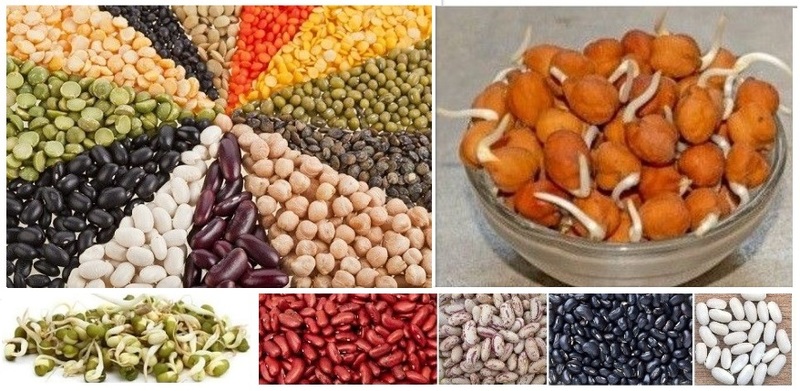 gases and enhance soil health.2-3
2. Benefits, usage and storage of pulses
Benefits: Pulses are a low-fat source of plant-based protein essential for cellular function and muscle growth. Their protein content is twice as much as in wheat or quinoa and thrice that of rice; there is approximately 9 g of protein in one serving, that is, half cup of cooked pulses. They also contain complex carbohydrates, have a low glycaemic index (1/3rd of glycaemic load of rice), and are rich in fibre (four times more than brown rice), antioxidants, folate, essential amino acids, vitamins, and minerals. Consequently, they can reduce the risk of heart diseases and type 2 diabetes, improve gut health and vision, maintain weight, strengthen bones, promote skin health, and enhance immunity. Pulses should be a vital part of any vegetarian diet.3-8
Usage: Soak them overnight, longer in case of dry peas and beans. In the process, the pulses are brought back to life, their enzymes get activated, and antinutrients are broken down to aid better digestion and absorption of nutrients. They can be sprouted to enhance their bioavailability. (refer vol 9 #5 for the article on sprouts). Lentils, peas, and beans when cooked with some spices are a favourite in Indian meals. Sweet and salty dishes are also made out of lentil and chickpea flour.3,4,8,9
Caution: Excessive amount of protein in one's diet can lead to cell proliferation affecting the heart, kidney, and liver with potential risks of cancer.10,11
Storage: Pulses have a long-shelf-life and should be kept away from heat, light and moisture in dry tight containers. One can put a few pieces of black pepper, red chillies, cloves, or neem or bay leaves in them to prevent bugs and insects, especially in monsoon season; organic pulses attract bugs easily.12,13 (also refer to vol 12 #5, for storage of grains under Health article)
3. Variety of Lentils/dals:
They are available as whole, split with the skin on, and split with the skin removed. Lentils are varied in colour and texture with lower antinutrient phytates than beans. They help alkalise the body and balance pH level. High on folate, manganese, iron, and phosphorous, a cup of cooked lentils can meet 90% of our daily folate needs and 37% of iron needed in a day.6,14,15
3.1 Horse gram (Kulthi): Known as a miracle pulse, generally fed to race horses, it is very high on protein and can cure a variety of diseases such as common cold, throat infection, fever, asthma, bronchitis, heart disease, jaundice, irregular menstrual cycles, urinary stones, and leukoderma. In some parts of India it is used to prevent malnutrition. Having the highest calcium content among pulses, it is excellent for bones. Its soup is ideal for a cold winter day to impart warmth; excess heat generated by it in the body can be balanced by taking sprouted green gram or ash gourd juice to cool the system.16,17
3.2 Lentils (Masoor): Brown ones with a mild earthy flavour are ideal for soups and stews, soften upon cooking; become mushy when overcooked. Green ones with a peppier, crunchy, nuttier flavour are ideal for salad after sprouting. The mild red variety is the most common. Lentil paste when applied facilitates quick healing of wounds.14,15,18
3.3 Mung bean/green: Whole mung is ideal for sprouting and consuming raw, steamed, or cooked. Split Mung without skin is pale yellow and used with rice in a dish called "Khichdi" popular in South Asian cuisines, considered easily digestible and good for children, the aged and convalescing patients. Moth beans (Matki) are tiny oblong brown lentils similar to mung in looks, benefits, and usage.19,20
3.4 Pigeon peas (Toor/Arhar): Yellow in colour, it is extensively used in India to make a dish called sambar with vegetables and tamarind extract, eaten in combination with rice for a meal or with savoury crepes. This nutrient dense lentil can meet the daily demand for iron and calcium; also considered as an incredible source of folic acid essential for fetal growth and to prevent birth defects of the new-born. Lentil paste can help control swelling and baldness and lentil leaves can heal wounds.21,22
3.5 Black gram (Urad): In India, it is used for making a variety of popular snacks like idli, dosa, vada, kachori and for tempering salty dishes. Whole black gram cooked with spices called maah ki dal is considered a nutritious delicacy. In addition to the nutrients found in pulses, it is high in omega-3 fatty acid and in phosphorous, essential for bones and teeth. A perfect health package, especially for men and women of reproductive age, it can also heal piles and colic disorder, stimulate liver, and prevent malnutrition and plaque formation in arteries.23-25
External application: Paste of soaked urad is used in promoting skin health, treat acne, tan, sunburn, and skin spots. Boiled and mashed urad with coconut oil can be applied on hair to contain hair loss, treat dandruff, and promote hair growth. The same when tied in a cloth and applied with sesame oil on the affected part, can give relief from joint pain.23,25
Caution: Though a laxative, diuretic and a cleanser, high intake of urad can increase uric acid levels; people with kidney stones, gallstones and gout should take care.23
4. Nutritive Peas and Beans
4.1 Chickpeas/Garbanzo beans (Kabuli chana) & Bengal gram (Kaala chana): These need to be soaked for a minimum of 12 to 24 hours to shorten the cooking time and to make them digestible. They prevent anaemia, boost energy level, and are especially healthy for growing children. Split chickpeas (chana dal) with similar benefits are easier to cook.19,26-28
Other uses: Face packs from chickpea flour is a time-tested recipe to cleanse the clogged pores and maintain supple skin. Liquid from canned or cooked chickpeas works as a good binder and flavourless egg replacer in recipes. Roasted and ground chickpeas can be used as a caffeine-free alternative to coffee.26-28
4.2 Kidney beans (Rajma): These nutrient-rich kidney-shaped beans are normally eaten with rice or corn, especially the more common red variety. A health booster, kidney beans are next only to black gram in omega-3 fatty acid content.24 These need to be soaked for 12-24 hours, the liquid discarded and beans rinsed several times and cooked until tender. In this way, the liver-damaging toxins naturally found in raw beans get eliminated or rendered inactive. There is a fascinating variety of beans with similar benefits, like white beans, black beans, borlotti beans, navy beans (best to prevent osteoporosis), pinto beans, adzuki beans, butter/lima beans, haricots, cannellini beans, flageolet beans, fava/broad beans (ideal for a mother to be and can help with Parkinson's disease and motor function), and alfalfa, if sprouted, it reduces risk of breast cancer.3,6,29,30
4.3 Soybean: It is a much-debated protein-rich bean; one may choose organic soybean, non GMO, fermented and minimally processed. The best way to consume it is in its fermented form like miso, tempeh and natto, rich in probiotics and vitamin K, these support heart, bone, and overall health and immunity, and relieve sleep disorders.31,32
4.4 Black-eyed beans/cowpeas (Lobia): It is a bean high in folate with vitamin A and K. Considered bland this can be eaten as sprouts or cooked with onion, tomato, and spices to enhance taste; does not cause much flatulence associated with beans.33 Caution: Considered as a common allergen and often genetically modified, higher consumption may cause hormonal imbalance in men.33
5. Tips for wise usage of pulses
Wash thoroughly before use. While purchasing, check for freshness and whether it is an organic produce or pesticide-free. Buy in small needed quantities so that quality and shelf life get tested.12
Pair the high protein high fibre pulses with grains for a balanced diet. Do not depend on one variety based on preference or convenience; rotate them and also mix lentils and peas/beans. Enhance absorption by combining pulses with vitamin C, eg, fresh lemon juice.8
Do not cook pulses unless soaked for some hours and rinsed well, for best nutrition. Some pulses can be sprouted with care and included raw in salad, except kidney beans.29 For optimum benefit, have a mix of sprouts and cooked pulses. Cook them well assimilation with some spices to aid digestion; overcooking or frying at high temperatures may affect the quality of nutrients; omega-3 fatty acid, found only in some lentils and kidney beans, can break down and get lost during overheating or frying.3,7,29,34-
Be moderate in intake of pulses and drink enough water, especially half an hour before every meal to prevent gas, abdominal cramps, and bloating. One may choose to discard cooking water of beans to minimise gas, but minerals will get lost.14,34
Can apply lentil paste for skin and hair health, and for healing wounds and getting relief from swelling and joint pains (see 3.2, 3.4, 3.5 & 4.1).
References & Links
What are pulses: https://pulses.org/what-are-pulses
Why eat pulses!: https://www.nhs.uk/live-well/eat-well/beans-and-pulses-nutrition/
Undervalued superfood: https://draxe.com/nutrition/pulses/
Benefits of Pulses: https://pubmed.ncbi.nlm.nih.gov/25061763/
Benefits with caution: https://www.usapulses.org/consumers/nutritious
Balanced diet of pulses & grains: https://www.fao.org/3/i5388e/i5388e.pdf
Sprouting pulses: https://food.ndtv.com/food-drinks/6-benefits-of-sprouting-and-the-right-way-to-do-it-1691887
Risks of high protein: Fasting for survival by Cardiologist Dr Jamnadas https://www.youtube.com/watch?v=RuOvn4UqznU
RDA for protein intake & caution: https://pubmed.ncbi.nlm.nih.gov/26797090/#
Storage: https://www.indiastudychannel.com/experts/38166-How-to-keep-grains-safe-from-bugs-for-long-storage
Horse gram/miracle pulse: https://www.ncbi.nlm.nih.gov/pmc/articles/PMC4397296/
Balancing benefits of horse gram: https://isha.sadhguru.org/in/en/blog/article/horse-gram-benefits-nutrition-recipes
Colourful (Masoor) lentils: https://www.1mg.com/ayurveda/masoor-dal-239
Moth bean/Matki: https://www.netmeds.com/health-library/post/matki-moth-bean-health-benefits-nutrition-and-recipes
Pigeon peas/Toor dal: https://www.netmeds.com/health-library/post/toor-arhar-dal-5-nutritional-reasons-on-why-you-should-eat-this-protein-rich-legume-daily
Benefits of Black gram/urad dal: https://www.netmeds.com/health-library/post/black-gram-nutrition-therapeutic-benefits-uses-for-skin-and-hair
Omega-3 in whole black gram: https://www.anuradhasridharan.com/2019/12/omega-3-fats-plant-based-sources-ALA.html
External application https://www.1mg.com/ayurveda/urad-dal-152
https://www.netmeds.com/health-library/post/kala-chana-health-benefits-nutritional-profile-uses-for-skin-hair-recipes
Kidney beans/Rajma: https://draxe.com/nutrition/kidney-beans-nutrition/
Soybean: https://draxe.com/nutrition/natto/
Benefits of soybean: https://www.lybrate.com/topic/benefits-of-soybean-and-its-side-effects
Black-eyed peas/Lobia: https://draxe.com/nutrition/black-eyed-pea-benefits/
How to cook beans for maximum benefit: https://www.youtube.com/watch?v=bY7of8J2s7g
Omega-3 not lost in cooking: https://www.hsph.harvard.edu/nutritionsource/2007/06/19/ask-the-expert-omega-3-fatty-acids/
High heat may break down Omega-3: https://omega3innovations.com/blog/does-frying-baking-and-canning-fish-affect-the-omega-3-content/
2. Virtual AVP workshop, 2-20 Nov followed by face-to-face workshop 24-26 Nov 2021, Puttaparthi
It was heart-warming that the batch of the AVP workshop in November had a worldwide representation; the 7 AVPs who qualified were from Dubai, France, South Africa, Romania and India. For the first time during the 10-week integrated e-course the candidates had weekly one-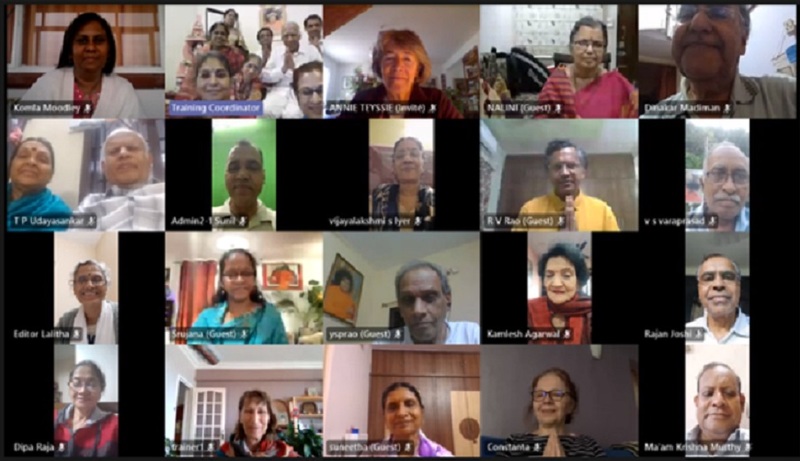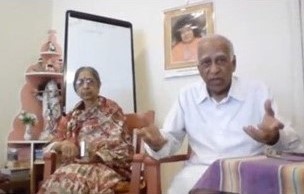 to-one interactions with their respective e-course teachers and chapter-wise assessments were held virtually under supervision. This gave them greater clarity on the subject and they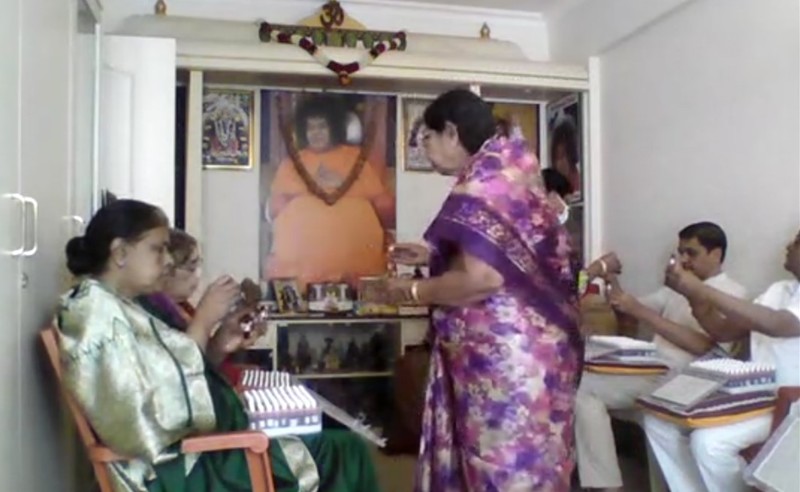 could interact more productively during the workshop which was on the practical aspects of diagnosing the problems of patients, identifying appropriate combos using the 108CC book, and presentation of a proper patient record. The two sessions on anatomy covered symptoms of major diseases and the requisite lifestyle changes needed, explained by one of our medically qualified vibrionics practitioners. After a live clinic on 24 Nov, the qualified AVPs took their oath before Swami, prepared their wellness kits and made remedies for the patients from their own newly charged 108CC box. In his valedictory address Dr. Aggarwal explained how vibrionics works, how every disease has its own frequency and if this exactly matches the vibration of the remedy, the disease can simply vanish. We need not know the name of a disease; symptoms and the likely cause if known are enough to show the way. Just because a disease is chronic, its cure need not take long; the results can sometimes be very fast, even instant. The focus, dedication and devotion of the practitioner and positive thoughts of both patient and practitioner play a crucial role in bringing about healing. We should work more from the heart than the head and act with a sense of surrender to the Divine Healer who knows what is best for the patient!
3. AP Hindi workshop, 16-18 Dec 2021 Puttaparthi
As part of our drive to reach out to rural and remote communities, we have initiated a pilot project to provide vibrionics training in vernacular languages. The first such workshop was held in Hindi for seven candidates from the northern and eastern regions of India. The

enthusiasm and zeal of the participants was remarkable; they displayed a great passion to do service back home where medical facilities are not readily available. It is really encouraging that most of them started their seva with great enthusiasm on the very day they qualified!
4. Annual Camp at Puttaparthi 21-23 Nov 2021
For the 13th consecutive year, practitioner 01228 organised the yearly health camp (see pics) at Prashanti Nilayam Railway Station as a birthday offering to Bhagawan. This year six enthusiastic practitioners joined hands to serve devotees arriving at the station. As a result of the pandemic, the number of beneficiaries was dismally low last year. However, this year an encouraging 419 patients were given vibrionics remedies. Five of the practitioners were participating in the camp for the first time and found the experience to be very enjoyable and fulfilling. Several patients who knew nothing about vibrionics showed keen interest and many took remedies for their families and contact details of local practitioners for their future use. Guidelines for Covid appropriate behaviour were strictly followed.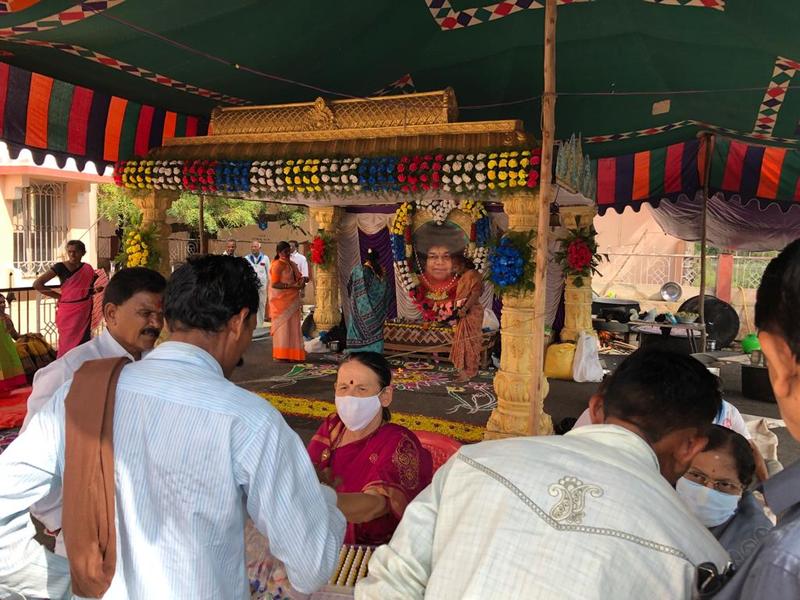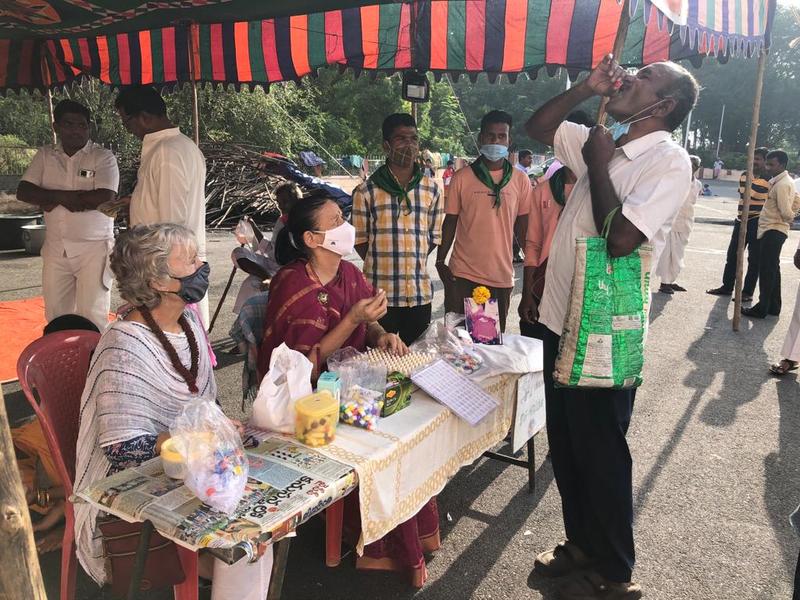 5. Inspiring anecdote
Miracle of IB remedy 18004…India
A practitioner on his way back home from Puttaparthi after qualifying as an AP experienced a miracle which confirmed to him the efficacy and power of vibrionics. He offered a fellow passenger a lift on his way to his hometown (Kalimpong) on arriving at the Bagdogra Airport. A few minutes later, this man was suddenly struck with some sort of attack. His body went cold and his right side became numb and motionless. The practitioner was at a loss as to what to do. As there were two pills left in his bottle of IB, he put one pill in the patient's mouth and closed his eyes for a minute to earnestly pray to Swami. When he opened his eyes, he could hardly believe what he saw. The man was totally fine – his body was warm again and he could move his right side. Shocked at his own sudden recovery, the man asked the practitioner if he had given him a magic pill? The man then explained to the practitioner that he was on his way to the local hospital to take his brother's dead body back home. The man suffered a similar attack just before boarding his flight from Bengaluru. A fellow passenger massaged his affected body parts for an hour which gave him some relief and allowed him to take the flight. The man promised to get back to the practitioner soon for treatment, having experienced the power of vibrionics in such a miraculous manner..
6. In Memoriam
Sri Narasimha Rao Yalamati 01456…India from Hyderabad has been practicing vibrionics since 2002, running a clinic six days a week from his home. Active till his last, he passed away without any pain or problem in his sleep on 14 October 2021 at the age of 77. He will be greatly missed both by his family and the vibrionics fraternity.
Sri Keshavrao Bangalkar 10300…India from Nagpur, Maharashtra, left for his heavenly abode on 25 Dec 2020 at the age of 85. He was from the first batch of practitioners trained at Dharmakshetra in Mumbai. He rendered many years of vibrionics service while he was active and this we gratefully acknowledge.