In Addition
Vol 9 Issue 5
September/October 2018
---
1. Health article
Sprouting for good health
"A seed when planted will sprout into life, but when it is cooked the life is destroyed. Eating food in its natural state promotes longevity. Food which is not cooked contains the largest amount of protein. For instance, the amount of protein in mung dal and soya beans is great…The way to eat peas, beans, or lentils is to soak them in water and let them sprout. In this way you consume them in all their richness…" Sathya Sai Baba1
1. Seed is the source!
Each plant life around us has emerged from a seed blessed with the necessary intelligence and support from the planet. Scientists are still researching to understand what exactly happens inside a seed as it begins to come to life and becomes fascinating for an observer. When a seed begins to sprout, specific biological mechanisms within it are activated to convert the stored energy into nutrients that are used for its growth into a healthy, vibrant plant. The same dormant nutritive energy in a seed can be activated for human consumption by a simple process at home too.1,2
2. What are sprouts?
Sprouts, as ready nutritive food, are very tiny shoots that emerge from seeds after they are soaked in water for a few hours and then allowed to germinate.2
3. What can be sprouted?
All edible seeds including whole grains, legumes, beans, pulses, lentils, and peas can be sprouted. Some of the popular sprouting seeds in different countries are mung, chickpeas, wheat, alfalfa, sunflower seeds, fenugreek, groundnut, radish, and broccoli. They should be organic, healthy, fresh and not chemically treated, neither split nor roasted or cooked.1,3,4
4. How to sprout?
Growing sprouts at home is a quick, easy, and a cost effective process. Start with small amounts. One should handle the seeds and grow sprouts in hygienic conditions.1,3,4
First wash the seeds thoroughly and place them in a clean vessel or jar.
Add three to four parts of water to one part of seed and cover with a lid.
Leave at room temperature for adequate soaking to occur. The soaking time would vary with the type of seed. Some seeds may require only about 30 minutes while most of the seeds require soaking overnight – 6 to 8 hours or more. Proper soaking is what really brings the seeds to life. Soaking for unduly long hours would make the seeds rot or ferment. One should drain and change the water after 6-8 hours.
After adequate soaking, draining the water is important as sprouting does not happen in water. The drained water can be used for house plants.
Then rinse the soaked seeds. Place them in a clean vessel and ensure that it is not fully covered or use a netted cover so as to allow air in.
Set aside the vessel at room temperature where there is no direct light. Dark or dimly lit environment is most conducive. One may expose them to sunlight as they mature, to activate mechanisms that produce chlorophyll and other compounds.
Repeat the rinsing 2-3 times in the day to keep them clean and moist at the same time.
When sprouts are ready, rinse well and drain.
To retain their nutritional value, sprouts should be placed in a refrigerator unless consumed immediately. They can be kept fresh in the refrigerator for some days.1,3,4
Sprouting time would depend on the type of seed, the frequency of rinsing, the temperature of rinse water, and the temperature of the environment. Smaller seeds take 10 to 12 hours to sprout (for example, mung beans). Larger seeds take about 3 to 4 days to sprout.1,3,4
5. Why sprout?
All raw seeds have inherent in them, antinutrients or enzyme inhibitors, which reduce the body's ability to absorb and assimilate the essential nutrients. Studies have shown that sprouting inactivates these inhibitors and reduces the allergens. It significantly improves the nutritional content, especially the minerals, vitamins, essential fatty acids, fibres, antioxidants, and enzymes. It also eliminates most of the gas-producing starches.3,4,6,9
A study5 showed distinct increase in vitamin C and calcium content after sprouting. There was significant decrease in antinutrients and protein digestibility had enhanced substantially. According to another study7, sprouting of grains for a limited period caused increased activity of hydrolytic enzymes, improvement in the contents of certain essential amino acids, total sugars, and B‐group vitamins, and a decrease in dry matter, starch, and antinutrients. The digestibility of storage proteins and starch improved due to their partial hydrolysis during sprouting. The magnitude of the nutritional improvement was, however, found to depend upon the type of cereal, seed quality, and sprouting conditions. The vitamins barely detectable in dry grains were found considerably enhanced and reached the peak after 7 days of sprouting.8
6. Benefits of sprouts
Sprouts rank as the most fresh and nutritious of all vegetables available to human diet and can benefit us in many unimaginable ways1,3,4,6,9-11. They can:
provide instant energy, being live and easily digestible, and maintain the energy levels
flush out the impurities and detoxify our blood
boost the immune system and protect the cells from free radical damage
maintain the acid-alkaline balance in the body and strengthen the digestive system
help to fight obesity, being low in calories, and also build and strengthen muscles and tissues
regulate blood pressure levels and help in cardiovascular problems
help in balancing blood sugar and alleviate rheumatoid pains
act as a defence against several chronic age-related diseases
help decrease pre-menstrual and menopausal symptoms
tone up the skin, liver, and all the systems in the body
act as a panacea for many diseases including cancer due to antioxidants present in them.
Overall, uncooked sprouts provide excellent quality nutrients and hence should be a vital component of our diet. One may add some lemon juice and seasoning to make them tasty. They can be mixed with salads. They can also be taken before or along with a meal or in between meals as healthy snacks.
If individual choices or conveniences or health conditions do not favour sprouting, soaking itself can be immensely beneficial. The whole grains, lentils, beans, and pulses, are more nutritious when cooked after soaking overnight. Nuts should not be sprouted, only soaked.4 Almonds are best for health when soaked overnight and taken next day after rinsing and removing the peel.12
7. Cautions
People with weakened immune systems, children, the elderly, and pregnant women should avoid eating raw sprouts. They may steam them and eat.13-14
Some sprouts like kidney bean sprouts could be highly toxic, so they should be cooked first.13
The warm and humid conditions required for the sprouts to grow are also ideal for the growth of bacteria. According to a nutritionist6, the risk of cross contamination in sprouts is very high as they contain living enzymes conducive to growth of dangerous bacteria like salmonella and e-coli. Apart from taking the basic precaution of hygiene, it is always good to refrigerate after sprouting and consume them within 3 to 4 days.13-14
References and Links:
2. Addendum to Index of 108CC book
Since the last 2011 edition of the 108CC book, several changes/additions made to those remedies over the last seven years are given below. We regret the omission of this table in the last newsletter.
Addison's disease 6.1 Adhesions 21.1
Adrenal Gland Deficiency 6.1 Alopecia 11.2+12.4
ASD 3.6+15.5+18.1 Asperger's 15.5
Autism spectrum disorder 3.6+15.5+18.1 Baldness 11.2+12.4
Blepharitis 7.3 Cholera 4.6+4.10+9.3
Concentration weak 17.3+18.1 Condyloma 8.5/14.2+21.1
Death approaching 15.1 Dengue 9.3+3.1
Down's syndrome 3.6+18.2 Epithelioma 2.1+2.3+21.1
Extremities painful, circulation 3.7 Eye lashes in-turning 7.1
Eye stye 7.3 Genital cyst/wart, female 8.5+21.1
Genital cyst/wart, male 14.2+21.1 Genital herpes female 8.5+21.8
Genital herpes male 14.2+21.8 Head Injury 10.1+18.1+20.7
Hysteria 15.1 Involuntary semen 14.3
Irritable bladder 13.3 Leucoderma 21.2+21.3+12.4
Lung cancer 2.1+2.3+19.3+19.6 Mycoplasma pneumonia 19.6+19.7
Multiple sclerosis (MS) 18.4 + 12.4 Nose bleed 10.1
Oral Candida 11.5 Plantar fasciitis 20.1+20.4
Polymyalgia Rheum.(PMR) 20.2+20.4+20.5 Prog. Syst. Sclerosis 12.4+15.1+21.2+21.3
Prostate – enlarged 13.1+14.2 Prostatitis 14.2+13.1
PSP Syndrome 7.1+15.1+18.4+18.6 Pulmonary hypertension 3.1+3.6+19.3
Retinitis pigmentosa 7.1+7.2 Salmonella 4.6+4.8
Scars internal 21.1 Sinusitis due to allergy 19.2+4.10
Skin dry 21.1 Spinal Injury 10.1+20.5
Spine – degeneration 20.5 Teething 11.5
Typhoid-recovery stage 9.1+4.11 Vitiligo 12.4+21.2+21.3
Walking pneumonia 19.6+19.7 Zika virus 3.1+9.3
3. AVP workshop in Puttaparthi, India 22-26 July 2018
Nine candidates (7 from India including two from Puttaparthi*, one from Thailand and one from Gabon) qualified as AVPs in this intense five-day workshop. Two practitioners from India who had qualified years back also participated to refresh and enhance their knowledge. The workshop, conducted by the two experienced course teachers 10375 & 11422, had inspiring and interactive sessions on a daily basis by the senior most faculty Dr Jit Aggarwal, through skype from the UK. The other highlight was a lively session on effective case history writing by Hem Aggarwal who also led the participants' to take oath before Swami on the eve of the holy Guru purnima.
*One is a practicing allopathic doctor and the other has long experience working with her father, a long-standing vibro practitioner. Immediately after the completion of the course, they started seva in the Ladies' seva dal building.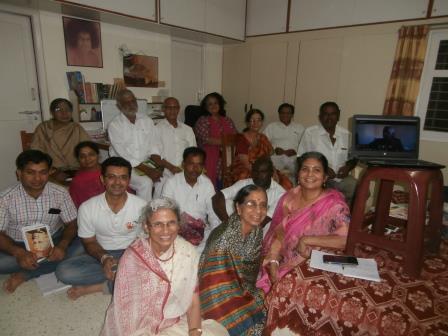 4. AVP workshop and Refresher in France 8-10 September 2018
The 3-day workshop was conducted by the French coordinator and trainer 01620 in the home of one of her future practitioners. There were 8 participants - 2 new students, 5 existing practitioners and the newly trained practitioner 03572 on Skype from Gabon in West Africa. The work was intense but at the same time the atmosphere was warm and friendly. Both new trainees were attentive and very responsive. At the end of the workshop both were touched with deep emotions when they received their 108CC boxes. So great was their enthusiasm that at the time of valedictory talk on Skype by Dr Aggarwal, their first two patients from the neighbourhood knocked at the door and the new practitioners gave them their first consultation. The existing practitioners found this experience and exchange of ideas at the workshop highly informative and inspiring.

5. Vibrionics in Telangana State, India 9 September 2018
At a joint meeting of two districts, practitioner 11585 got an opportunity to speak in the presence of the state president and almost all other officials of Sri Satya Sai Seva Organisation of Telangana State, district presidents of both the districts together with all the office bearers and Samiti conveners. It was only with the grace of Swami that he was able to address this assembly of high level dignitaries for 25 minutes on the subject of vibrionics. He explained how the system works on physical, mental/emotional and spiritual levels, has zero side effects and gives amazing results. He also briefed them on the regular medical camps being conducted in the district. He stressed that it is easy to conduct vibro medical camps at any place. He narrated that both he and Practitioner 11592obtained high success rate with patients at the weekly vibro camps at Satya Sai Mandir Palvoncha. This generated a lot of interest among the office bearers. After the meeting, the two practitioners treated 27 patients including a few office bearers. Such interest is a boost to the practice of vibrionics in the state.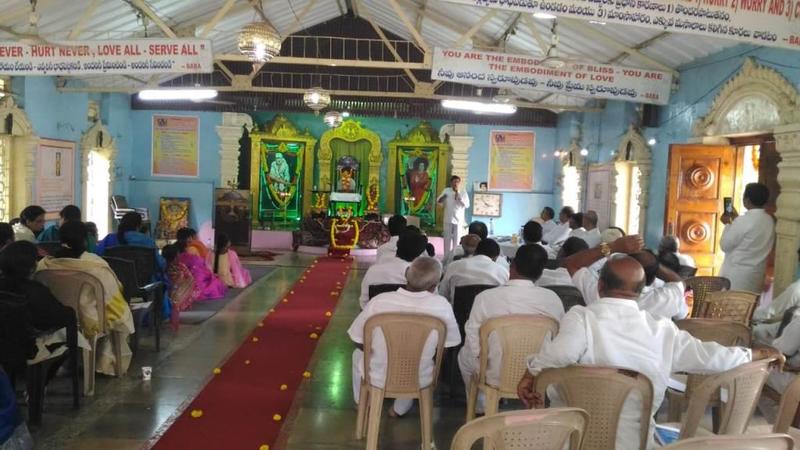 Om Sai Ram