In Addition
Vol 3 Issue 6
November/December 2012
---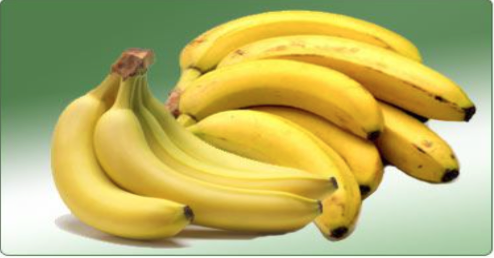 Banana Facts
The humble banana is often overlooked when it comes to providing nutritional and medicinal value to our food, as it has lot to offer us in both areas. Bananas are rich in vitamins A, B, C, E and G. The minerals they contain are potassium, calcium, magnesium, phosphorus, and selenium.
A Banana, containing three natural sugars - sucrose, fructose and glucose combined with fibre, it gives an instant, sustained and substantial boost of energy. Research has proven that just two bananas provide enough energy for a strenuous 90-minute workout. No wonder the banana is the number one fruit with the world's leading athletes.
The fully ripe banana produces a substance called TEN (Tumour Necrosis Factor) which has the ability to combat abnormal cells. So don't be surprised if the shops soon go out of stock of bananas. As the banana ripens, it develops dark spots or patches on the skin. The more dark patches it has, the higher will be its immunity enhancement quality.
Hence the Japanese love bananas for a good reason. According to a Japanese scientific research, banana contains TEN which has anti-cancer properties. The degree of anti-cancer effect corresponds to the degree of ripeness of the fruit, i.e., the riper the banana, the better the anti-cancer quality. In an animal experiment carried out by a professor in Tokyo University comparing the various health benefits of different fruits, using banana, grape, apple, water melon, pineapple, pear and persimmon, it was found that banana gave the best results. It increased the number of white blood cells, enhanced the immunity of the body and produced anti-cancer substance TEN.
The recommendation is to eat 1 to 2 bananas a day to increase your body immunity to diseases like cold, flu and others. According to the Japanese professor, yellow skin bananas with dark spots on it are 8 times more effective in enhancing the property of white blood cells than the green skin version.
But this is NOT the only way a banana can help us keep fit. It can also help overcome or prevent a substantial number of illnesses and conditions, making it a must to add to our daily diet.
Depression: According to a recent survey undertaken by MIND amongst people suffering from depression, many felt much better after eating a banana. This is because bananas contain tryptophan, a type of protein that the body converts into serotonin, known to make you relax, improve your mood and generally make you feel happier.
PMS: Forget the pills -- eat a banana. The vitamin B6 it contains regulates blood glucose levels, which can affect your mood.
Anaemia: High in iron, bananas can stimulate the production of haemoglobin in the blood and so helps in cases of anaemia.
Blood Pressure: This unique tropical fruit is extremely high in potassium yet low in salt, making it the perfect way to beat blood pressure. So much so, the US Food and Drug Administration has just allowed the banana industry to make official claims for the fruit's ability to reduce the risk of blood pressure and stroke.
Brain Power: 200 students at a Twickenham (Middlesex in UK) school were helped through their exams this year by eating bananas at breakfast, break, and lunch in a bid to boost their brain power. Research has shown that the potassium-packed fruit can assist learning by making pupils more alert.
Constipation: High in fibre, including bananas in the diet can help restore normal bowel action, helping to overcome the problem without resorting to laxatives.
Hangovers: One of the quickest ways of curing a hangover is to make a banana milkshake, sweetened with honey. The banana calms the stomach and, with the help of the honey, builds up depleted blood sugar levels, while the milk soothes and re-hydrates your system.
Heartburn: Bananas have a natural antacid effect in the body, so if you suffer from heartburn, try eating a banana for soothing relief.
Morning Sickness: Snacking on bananas between meals helps to keep blood sugar levels up and avoid morning sickness.
Mosquito bites: Before reaching for the insect bite cream, try rubbing the affected area with the inside of a banana skin. Many people find it amazingly successful at reducing swelling and irritation.
Nerves: Bananas are high in B vitamins that help calm the nervous system.
Overweight and at work: Studies at the Institute of Psychology in Austria found pressure at work leads to gorging on comfort food like chocolate and crisps. Looking at 5,000 hospital patients, researchers found the most obese were more likely to be in high-pressure jobs. The report concluded that, to avoid panic-induced food cravings, we need to control our blood sugar levels by snacking on high carbohydrate foods every two hours to keep levels steady.
Ulcers: The banana is used as the dietary food against intestinal disorders because of its soft texture and smoothness. It is the only raw fruit that can be eaten without distress in over-chronicler cases. It also neutralizes over-acidity and reduces irritation by coating the lining of the stomach.
Temperature control: Many other cultures see bananas as a "cooling" fruit that can lower both the physical and emotional temperature of expectant mothers.
Seasonal Affective Disorder (SAD): Bananas can help SAD sufferers because they contain the natural mood Enhancer tryptophan.
Smoking & tobacco use: Bananas can also help people trying to give up smoking. The B6, B12 they contain, as well as the potassium and magnesium found in them, help the body recover from the effects of nicotine withdrawal.
Stress: Potassium is a vital mineral, which helps normalize the heartbeat, sends oxygen to the brain and regulates your body's water balance. When we are stressed, our metabolic rate rises, thereby reducing our potassium levels. These can be rebalanced with the help of a high-potassium banana snack.
Strokes: According to research in "The New England Journal of Medicine, "eating bananas as part of a regular diet can cut the risk of death by stroke by as much as 40%!
Warts: Those keen on natural alternatives swear that if you want to kill off a wart, take a piece of banana skin and place it on the wart, with the yellow side out. Carefully hold the skin in place with a plaster or surgical tape!
So, a banana really is a natural remedy for many ills. Remember however, never to put your banana in the refrigerator! When you compare it to an apple, it has four times the protein, twice the carbohydrates, three times the phosphorus, five times the vitamin A and iron, and twice the other vitamins and minerals. It is also rich in potassium and is one of the best value foods around. So may be its time to change that well-known phrase so that we say, "A banana a day keeps the doctor away!"
http://www.naturalnews.com/031308_bananas_health_benefits.html http://www.naturalnews.com/028206_bananas_health.html http://www.naturalnews.com/034151_bananas_nutrition_facts.html http://healthmad.com/nutrition/10-health-benefits-of-bananas/ http://www.naturalnews.com/026376_selenium_cancer_thyroid.html http://www.naturalnews.com/026368_calcium_magnesium_vitamins.html http://www.nutritiondata.com/facts/fruits-and-fruit-juices/1846/2 http://health.learninginfo.org/banana-nutrition.htm http://news.bbc.co.uk/2/hi/health/264552.stm http://www.medicinenet.com/ace_inhibitors/article.htm http://www.todayifoundout.com/index.php/2010/09/15-facts-you-probably... http://www.whfoods.com/genpage.php?tname=foodspice&dbid=7
Six Foods to Help Diabetes
There are two forms of diabetes: Type one and type two. Both types involve imbalanced blood sugar and insulin issues. Insulin is the hormone that helps convert glucose into the cellular energy that's needed for the cells to metabolize nutrients.
Type I diabetes is sometimes called juvenile diabetes because it usually occurs early in life. The pancreas doesn't produce any or enough insulin and usually needs to be supplied externally. That often means insulin injections by manual syringe, or an easier managed insulin injection pen, insulin pills, or a portable insulin pump.
The pancreas is usually functioning with Type II diabetes, which normally occurs later in life. However, the body is insulin resistant, or not using the insulin well enough. Type II diabetes can often be controlled by exercise and diet while monitoring blood sugar.
Again, chronically high blood sugar is an indicator for both types of diabetes. But sometimes low blood sugar (hypoglycaemia) occurs, especially with Type II diabetes.
Many diabetic symptoms cross over with adrenal and thyroid issues as well as fibromyalgia. So it's best to get your blood sugar tested to determine whether or not your health problems are diabetes related.
Foods for Diabetics
Obviously, foods with high glycaemic indices (GI) need to be avoided. Those include refined starches and carbohydrates, sugar, high fructose corn syrup (HFCS) honey, maple syrup, candies, cakes, and cookies. Synthetic sugar substitutes cook your brain cells.
Unsweetened fruit juices are short-term solutions for low blood sugar (hypoglycaemia), but should be avoided unless diluted if one suffers from high blood sugar.
Did you know that many foods from fast food restaurants and processed foods off the shelf contain sugars even if they're not meant to be sweet? Avoid them all. Buy bulk organic as much as possible.
(1) Veggies, especially greens, are items you can eat every day. Steamed veggies and raw salads are nutritionally beneficial for anyone and certainly if you have a low glycaemic index. Off-the-shelf salad dressings often contain sugar or other sweeteners. Use only unprocessed cold-pressed virgin vegetable oils, except soy, and vinegar or lemon/lime.
(2) Slice some avocado into your salad for taste variety and good nutrition. Avocados have low GIs. Avocados' high omega-3 content contributes to healing chronic inflammation, which is often associated with diabetes; leading to other serious diseases.
Avocados are an excellent plant source of protein.
(3) Walnuts are also a good low GI source of omega-3. You can sprinkle them onto salads or veggies for a tasty change. Most other unsalted, raw nuts are also okay for diabetics.
(4) Fresh wild (not farmed) fish, especially tuna or cold water salmon, are another high source of omega-3 with very low GI levels. All other meats are low GI high protein sources, if you are so inclined.
Then try to stick with grazing grass-fed livestock or poultry that's free range, both to stem the excessive animal cruelty and avoid consuming the toxic antibiotics and hormones injected into factory farm animals.
(5) Grains are tricky. Obviously avoiding processed grains is necessary. But some whole grains have a higher GI (glycaemic index) than you would think. Whole wheat is one of them. Quinoa and buckwheat are good substitutes.
Organic brown rice may work for some diabetics since it is a complex carbohydrate that doesn't convert to glucose rapidly. But most experts recommend diabetics not make brown rice an everyday meal.
(6) Various legumes (beans) can be added to a dish of brown rice for a delicious entree. Beans are high protein and fibre with lower GIs than potatoes. They can also be mixed in with veggies or prepared as a side dish.
Sources for this article include: http://www.ehow.com/about_5372662_safe-foods-diabetics.html Learn more: http://www.naturalnews.com/037217_diabetics_foods_glycemic_index.html#ixzz26kf3a5Ps
Sai Vibrionics offers health information and articles for educational purposes only; this information is not intended as medical advice.
Om Sai Ram