In Addition
Vol 3 Issue 4
July/August 2012
---
TAKE PAPAYA AS OFTEN AS YOU CAN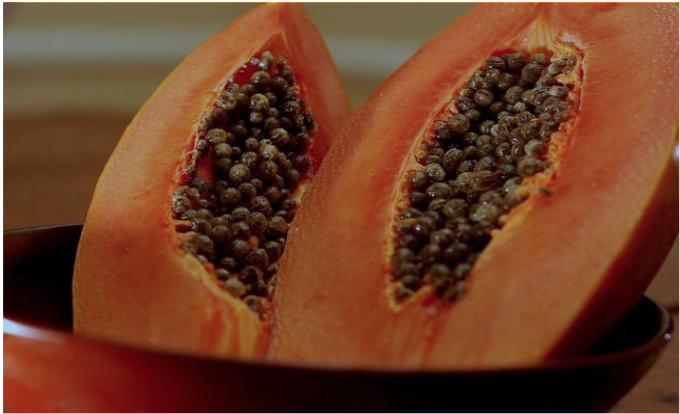 Originally native to southern Mexico and now cultivated in many tropical countries (including Brazil, India, Indonesia, South Africa, Vietnam and Sri Lanka), the papaya plant has been touted by traditional healers for centuries as a source of powerful medicine. Not only is papaya fruit delicious and loaded with vitamins and phytochemicals, but other parts of the plant have been used historically to treat health problems too.
Now University of Florida (UF) researcher Dr. Nam Dang and his colleagues in Japan have announced new evidence that the papaya fights cancer cells. In fact, they discovered that an extract made from dried papaya leaves produced a dramatic anti-cancer effect against a broad range of tumors grown in the laboratory — including cancers of the cervix, breast, liver, lung and pancreas.
The study, recently published in the Journal of Ethnopharmacology, not only showed that papaya has a direct anti-tumor effect on a variety of malignancies, but it also documented for the first time that papaya leaf extract increases the production of key signaling molecules called Th1-type cytokines.
That's important because this regulation of the immune system raises the strong possibility that the use of papaya could help the body's own immune system to overcome cancers. In addition, it suggests papaya could be helpful in treating or preventing other health problems such as inflammation and autoimmune diseases.
The research team found that papaya's anti-cancer effects were strongest when cancer cells received larger doses of the papaya leaf extract — yet, unlike many mainstream cancer therapies, there were no toxic effects at all on normal cells.
In a statement to the media, Dr. Dang pointed out that the ability of papaya extract to stop cancer without toxicity is consistent with reports from indigenous populations in Australia and in his native Vietnam.
"Based on what I have seen and heard in a clinical setting, nobody who takes this extract experiences demonstrable toxicity; it seems like you could take it for a long time — as long as it is effective," stated Dr. Dang, who is a professor of medicine and the medical director of the UF Shands Cancer Center Clinical Trials Office.
In all, the UF scientists exposed 10 different types of cancer cell cultures to four strengths of papaya leaf extract. When they measured the effect of the extract after 24 hours, the papaya had slowed the growth of tumors in all the cultures.
What exactly does papaya do to halt malignancies? To find out, the researchers focused on a T- lymphoma cancer cell line. They discovered that at least one of the mechanisms that make papaya extract a potent anti-cancer weapon is the natural compound's ability to cause malignant cells — but not normal ones — to die.
The researchers hope to follow up these experiments by eventually testing the papaya cancer treatment in animal and human studies. Up next for Dr. Dang and his colleagues: they have applied to patent a process through the University of Tokyo to distill the papaya extract and they are working to identify all the specific compounds in the papaya extract that are active against cancer cells.
To this end, Dr. Dang has partnered with Hendrik Luesch, a UF Shands Cancer Center professor of medicinal chemistry, who is an expert in the identification and use of natural products for medical purposes. Dr. Luesch recently discovered yet another natural cancer fighter — a coral reef compound that blocks cancer cell growth in cell lines.
Health Benefits:
Sweet and tasty papaya makes an excellent breakfast and is good in fruit salads. It can be blended with yogurt to make a delicious digestive smoothie. It also works well as an added ingredient in green salads. It tastes particularly good with lemon juice squeezed over it. The health benefits of papaya include heart disease and cancer prevention, cold and flu prevention and healthy digestions.
Papaya Nutrition:
Papaya is an excellent source of vitamin C, with one medium papaya containing about 150% of the Daily value. It is also a good source of vitamin A, in beta-carotene form. It is also a good source of vitamin K, vitamin E and folate as well as the mineral potassium.
Papaya for Heart Disease Prevention:
One of the health benefits of papaya is related to the fact that it contains high doses of three vitamins involved in heart disease prevention- vitamin A, vitamin E and beta-carotene. In addition, the high levels of folate found in papayas can help lower levels of the heart disease promoting amino acid homocysteine.
Papaya for Cold and Flu Prevention:
Foods high in vitamin C, such as papaya, help boost the immune system. Vitamin C has been shown to help ward off symptoms of influenza A, the common cold and pneumonia. Vitamin A provides additional immune system support.
Papaya for Neural Tube Defect Prevention:
Because papayas are rich in folate, they have applications in preventing neural tube defects. Eating folate-rich foods pre-pregnancy and during pregnancy can help the fetal spinal column to develop normally.
Papaya for Digestive Health:
Papaya contains special digestive enzymes, called papain and chymopapain, which help digest proteins. Papaya is often used as a detoxification food and to give the digestive system a break, because it is so rich in its own digestive enzymes. Papaya also contains anti-oxidant vitamins C and E as well as folate, all of which can help prevent colon cancer.
Vitamin D Absorption and the Skin
Sometimes called the "sunshine vitamin," many people think of vitamin D as the nutrient they absorb from the sun. The sun rays themselves don't actually contain any vitamin D; instead, skin that is penetrated by specific ultraviolet rays works to synthesize this energy into vitamin D, starting a process involving the liver and kidneys to create the essential hormone calcitriol.
Nutrient Qualities:
Vitamin D functions as a precursor to the hormone calcitriol, which current research finds plays a major role in how cells are developed and maintained. This makes vitamin D different from other vitamins that fuel bodily processes rather than direct them. As a fat-soluble vitamin, excess vitamin D is stored in the body's fatty tissues rather than being excreted through the kidneys like water-soluble vitamins, such as vitamin C and the various B vitamins.
Vitamin D plays many roles in the body, primarily promoting the uptake of calcium in the small intestine during the digestive process. Without vitamin D, proper mineralization of the bones cannot occur, including the building and remodeling of bones. Deficiencies can lead to rickets in children and osteomalacia and osteoporosis in adults. Vitamin D helps regulate the amount of calcium and phosphorus in the blood, reduce inflammation, support immune function and modulate the development of proteins involved with gene encoding.
Specific sunlight kicks off the vitamin D synthesis process. According to the National Institutes of Health's Office of Dietary Supplements, "Ultraviolet (UV) B radiation with a wavelength of 290-315 nanometers penetrates uncovered skin and converts cutaneous 7-dehydrocholesterol to previtamin D3, which in turn becomes vitamin D3." Other non-sun sources include sockeye salmon, cod liver oil, fortified dairy and mushrooms, as well as supplements, since vitamin D doesn't naturally occur in significant amounts in other forms.
The best way to receive sufficient UVB rays to facilitate vitamin D synthesis requires a balance of enough sun, but not so much as to increase the risk of skin cancer. Just a few minutes of exposure a day provide enough UVB to kick off the vitamin D process. People with darker skin need more time in the sun than those with fair skin, due to their skin's melanin, which impedes absorption. Researchers suggest spending five to 30 minutes in the sun between the hours of 10 a.m. and 3 p.m. twice a week, to replenish your vitamin D stores. For people at higher risk of skin cancer, or for people with sedentary, indoor lives, supplements work as well.
What Prevents Absorption:
Location, season and physical blocks can prevent UVB absorption. Anything physically blocking the sun's rays impedes vitamin D synthesis, such as clothing, sunscreen with a sun protection factor higher than SPF15, coatings on windows and clouds in the sky. People with darker skin also require more sunlight, as their higher amount of melanin reduces their UVB exposure.
www.livestrong.com/article/109767-skin-absorb-vitamin-d-sun/#ixzz20jZYHZLf
Om Sai Ram