In Addition
Vol 8 Issue 1
January/February 2017
---
Caution for users of 108CC box
Practitioner 00002…UK, our Head of Research has noticed that many practitioners are giving too many combos for simple problems that are best treated simply, often with a single Common Combo (CC). She finalizes and modifies combos only after consulting Materia Medica, taking into account any feedback received from practitioners, her own extensive experience that includes many years of practicing vibrionics and radiesthesia and finally the inner guidance she receives for each combo in the 108CC system.
Inappropriate use of too many combos dilutes the effectiveness of all the many remedies within each combo, prolonging patient recovery.
If the CC chosen from the index at the back of 108CC book does not bring in the desired result, then any other appropriate CC may be added. In the event this too fails, write to [email protected] for guidance.
HEALTH TIPS - Can we enjoy fasting? 11422…India
Normally we see people enjoy eating. Do we see anyone enjoy fasting? Maybe we can, especially if we consider its immense potential to give us joy. Perhaps we need to learn more about the connection between our life's purpose, our health and the science behind it.
1. Know the science of fasting1
Autophagy is a Greek word which means the cellular body can eat itself (self-eating). This key cellular process enables the body to cleanse itself of invading micro-organisms and toxic protein aggregates. It mediates the digestion and recycling of superfluous cellular material during starvation. Unlike other cellular degradation mechanisms, autophagy removes long-lived proteins, large macro-molecular complexes, and organelles that have become obsolete or damaged. To summarize, after a few hours of fasting, a membranous structure called autophagosomes is formed in all the cells and it captures all unwanted cellular material, bacteria, virus etc. It then seals it and transports it to "Recycling compartments" called Lysosomes present in every cell for destruction. Simultaneously, useful parts are stripped out to build new cells. Thus, fasting stimulates this autophagy process; the body's ingenious internal recycling program. Though Autophagy was recognized in the 1960s, Dr Yoshinori Ohsumi scientifically proved the phenomenon with his research. This cellular biologist from Japan was awarded the Noble prize for Physiology in 2016 for these discoveries regarding the mechanisms of autophagy.
2. Fasting to increase immunity against cancer and other diseases
One of the simplest solutions for curtailing cancerous cells is periodic fasting. These cells need a lot more food than a normal cell, up to 30 times more. Just by denying oneself food on certain days, one can reduce the level of cancerous cells2. According to a research study, a prolonged nightly fast (not less than 13 hours) could potentially reduce the risk of type-2 diabetes, cardiovascular disease, breast cancer, and other cancers; further research is ongoing3&4.
3. Natural methods for cleansing and healing the body
One should neither feed nor fast forcefully. Like eating, fasting should also be in tune with the natural cycle of the body. Human physiology goes through a Mandala cycle approximately every 40 to 48 days. In this cycle, three specific days arise when the body does not demand food. The body knows its own days for cleaning. Traditionally in India, Ekadashi, which comes once every 14 days in the Lunar calendar (and comes thrice in a cycle of 48 days), is fixed as the day of fasting5&6.
4. Know how to fast intelligently with awareness
Both the body and the mind may have to be prepared for days or even months before one ventures into fasting, especially if one is unable to do without food due to habit, mental barrier, inadequate sadhana, or activity levels. To begin with, one needs to avoid snacking between meals. Eight hours is the Ideal break between meals. A minimum of five hours is a must5! One may drink warm lime water or green tea or an easily digestible small fruit to assuage any temptation to snack. One baby step towards fasting would be to daily observe a 13-hour fast through the night with adequate restful sleep. In other words, the time gap between dinner and the next day's breakfast should be 13 hours. Succeeding with this, the next step might be to have one meal on a fasting day, rather than a day-long fast. Finally, one might easily progress to fasting on a diet of fruits or fresh fruit juice before eventually graduating to a full-day water fast.
5. Follow Divine dictates7-9
Know the purpose of Life and true importance of Health
Our Divine Healer, Sri Sathya Sai Baba, has repeatedly said that the purpose of life is to know the Self, realize it; to liberate oneself from the cycle of birth and death! One is born to learn how not to be born again. All activities have this ultimate purpose and goal. All varieties of seva, worship and knowledge have this one ultimate purpose in life. It's best to have a healthy body to achieve this. Therefore, one has to respect the body keeping in good health to achieve this noble purpose.
Fasting to attain Spiritual strength and optimum Health
Baba says Fasting is "Upavaas", meaning "Living in the Proximity of God". "Remember that the purpose of fasting is spending time in the contemplation of God and not simply punishing the body by cutting a meal or a series of meals"…Sathya Sai Speaks vol 6 February 1966. "Fasts promote spiritual strength"…Mahashivratri Festival March 1966. Just as we ingest food through all our five senses, fasting also entails regulating all we take in through the five senses, in order to purify thought, word, and deed.
References and Links
Discoveries of Mechanisms for Autophagy https://www.nobelprize.org/nobel_prizes/medicine/laureates/2016/advanced-medicineprize2016.pdf
Is there any benefit to Fasting? http://isha.sadhguru.org/blog/lifestyle/food/is-there-any-benefit-to-fasting/
Ekadashi fasting and Recipes if one must eat! http://isha.sadhguru.org/blog/yoga-meditation/demystifying-yoga/ekadashi/
Health, Food and Spiritual Disciplines, Divine Discourse, 8 October 1983 & Mahashivratri Festival, March 1966 - Sathya Sai Baba Speaks on Food, Sri Sathya Sai Sadhana Trust, First Edition, September 2014, page 33.
Sathya Sai Speaks on Fasting http://sssbpt.info/ssspeaks/volume06/sss06-02.pdf
Fast one day in the week http://sssbpt.info/ssspeaks/volume09/sss09-21.pdf
Refresher and Awareness Seminar, France
Practitioner 01620 reports that, on 11 September 2016, a seminar was conducted in Vienne (South East France) by 3 French trainers for the benefit of veteran practitioners and new prospective candidates. The veteran practitioners were trained in the early days of the vibrionics programme in using the SRHVP, much before the introduction of 108CC box. The old-time practitioners were eager to receive an update on developments in vibrionics over the years and advantages of the 108CC box as they had not been exposed to it. The prospective candidates were keen to understand what vibrionics is all about.
Keeping in mind the varied expectations of the audience, the trainers started the seminar with an on-screen presentation of introductory French video on vibrionics. Slides from AVP training workshops were presented in order to build an appreciation and awareness around the benefits of using 108CC box. The trainers walked the audience through what it means to be a vibrionics practitioner and individual characteristics sought in prospective candidates. Profiles of dedicated role model French practitioners 01480* were presented to build a higher level of appreciation and instil inspiration. A prospectus for students and a vibrionics brochure were handed over to all. (*one Reg # for both husband and wife)
The feedback from the participants was that they were very pleased with the seminar as it met their expectations; they expressed their interest to receive formal training in the use of 108CC box.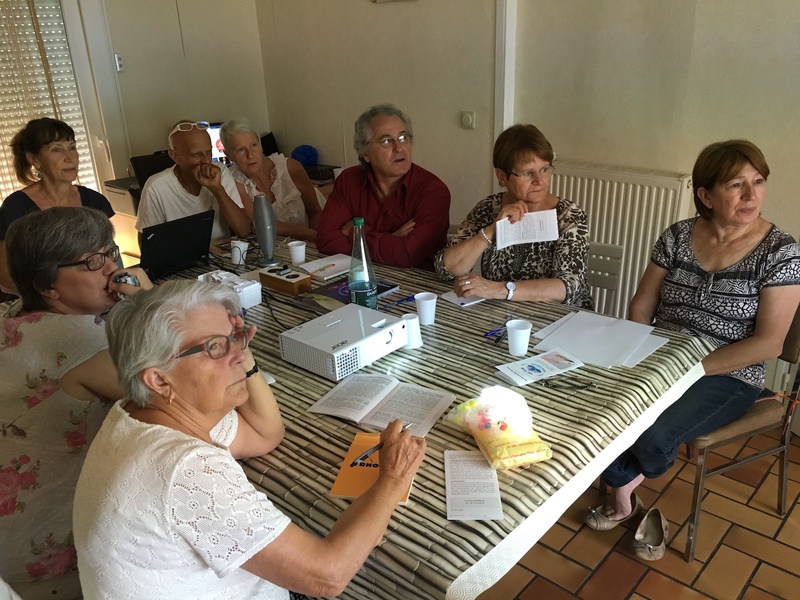 Vibro camps in Vedanta school in Pune
Practitioner 10375…India reports that with Swami's immense grace, vibrionics practitioners of Pune beginning Sep 2016 have started a monthly vibrionics seva camp at one Vedanta School in Alandi, a temple town located 25 km from Pune. Alandi is a popular place of pilgrimage where the 13th century Marathi SaintDnyaneshwar, took Samadhi (gave up his body). There are nearly 100 Vedanta schools in Alandi, where students are trained in kirtan & abhang rendition (Marathi devotional songs on Lord Vitthal) along with study of Vedanta scriptures. In this school, there are 350 male students in the age group of 15 to 30 years. The students are very simple, humble spiritual seekers who hail from economically challenged backgrounds. As the town lacks proper medical facilities, vibrionics seva can play a critical role in addressing the students' health needs.
The practitioner is pleased to report that as a result of very positive feedback from the first camp, three more camps have subsequently taken place, dispensing remedies to 173 patients. Presently, a team of 4 practitioners from Pune conducts the camp on a monthly basis. The success of the camp has encouraged the practitioners to expand the vibrionics program to cover additional schools, villagers, and pilgrims in this spiritually charged town. The practitioner has approached the temple authorities for their consent to hold an additional monthly camp within the temple precincts. Her intent is to serve visitors to the temple for 2 hours in the afternoon following the camp at the school.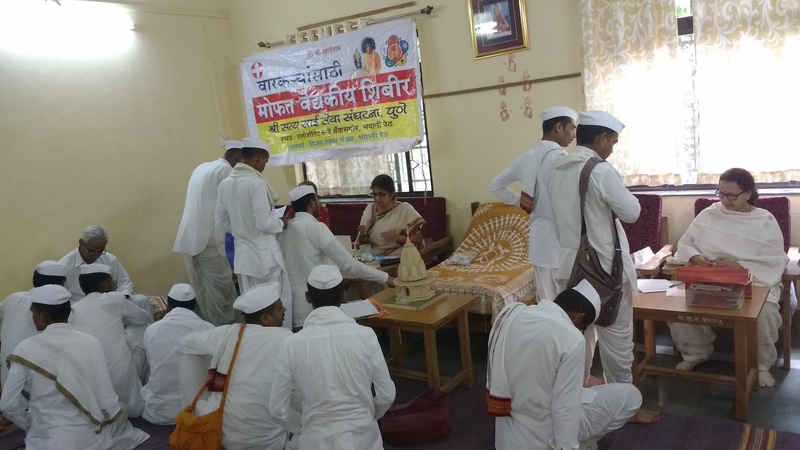 Refresher Seminar, Chennai
Practitioner 11422 reports that the first refresher seminar for practitioners was held on 9 December 2016 in Chennai with 9 participants. Dr Jit Aggarwal addressed the group through Skype with both opening and concluding remarks. The seminar focused on four essential areas:
1. The need for practitioners to continually improve their knowledge and understanding by systematic regular study of vibrionics text books, newsletter and the first International Conference Proceedings book. Constant updating is encouraged through interaction with other practitioners by regularly conducting workshops and refresher seminars.
2. Practicing with a clear understanding that Swami is the Healer and we are His humble instruments of Love.
3. Instructions for making a precise and complete record of patients' case histories and sharing successful cases.
4. Importance of our oath to God for sending monthly vibrionics reports. These should be sent to the coordinator by the end of the last day of every month, thus enabling them to send the reports to Dr Aggarwal on the 1st of every month.
Questions mailed in advance by the participants were discussed with clarifications provided by Dr Aggarwal. During the seminar, the attendees pledged to update the AVP manual during the first half 2017 with each attendee adopting one chapter of the manual for revision.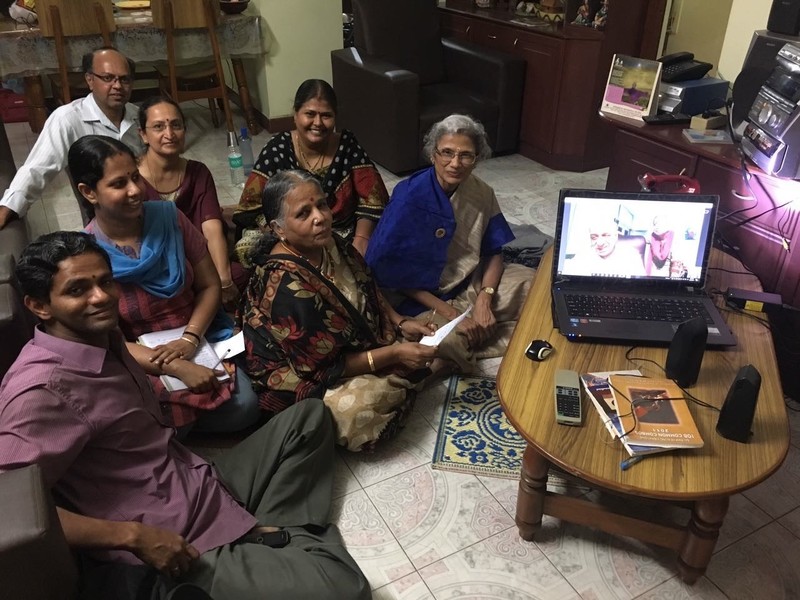 Kerala shines
A new permanent vibrionics clinic that will function daily was inaugurated at Kizhuthani, a rural area in Thrissur district, Kerala on 23 November 2016, as a 91st birthday offering, to relieve the suffering of the sick – helping the helpless, spreading the joy of healing…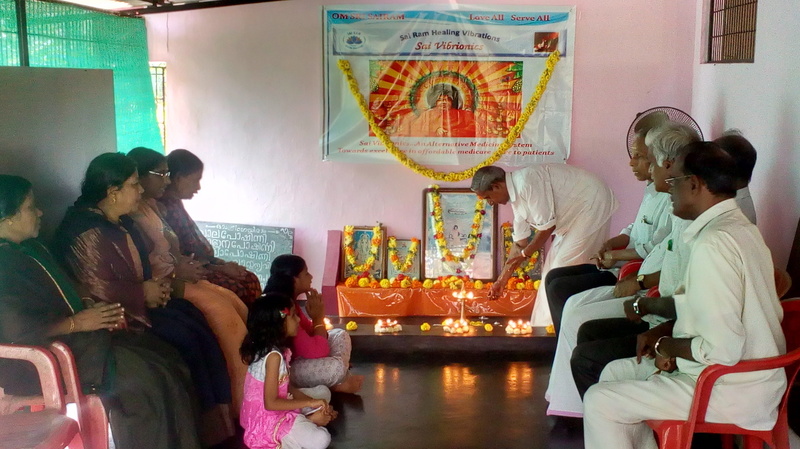 Om Sai Ram