From the desk of Dr Jit K Aggarwal
Vol 13 Issue 5
September / October 2022
---
Dear Practitioners
My heart is filled with gratitude as I share this edition with you on the most auspicious day of Ganesh Chaturthi, the birthday of Lord Ganesha, remover of all obstacles. In His Ganesh Chaturthi discourse on 31 August 1992 Swami said "to turn human life from this mundane existence towards the Divine, it is essential to have association with "Sath – Sathsangam." The Sathsangam has three facets…See only what is good, hear what is good, and do what is good." –This is the true basis of spirituality ie, elimination of all animal instincts and manifesting the Divine light within. Interestingly, it is also the guiding principle of the vibrionics mission! In fact, this newsletter is a medium for nurturing and growing good association in our community.
During the time of this very festival, 12 years ago, we began our wonderful journey of a community communique through the Sai Vibrionics Newsletter – the inaugural issue came out in Sept 2010. At the time, working together with the US & Canada coordinator 01339, I had envisioned it to be an opportunity to connect with practitioners around the world and offer information, knowledge, and encouragement on an ongoing basis. We had hoped that it would become a useful way of passing on updates, suggestions, and ideas in connection with vibrionics seva, as well as answer questions and share useful titbits with regards to healthy living. Over the years, it has served to do all of this and more.
I vividly recollect the blissful moments in the physical presence of our beloved Swami when I presented Him with the printed version of the very first newsletter and how His Divine fingers moved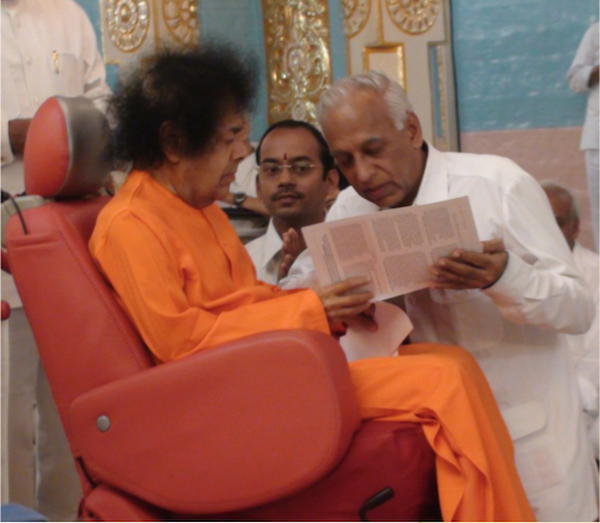 over the printed words, blessing it profusely!
It gives me great joy that since that first issue, we have managed to publish the newsletter bi-monthly without a single miss and have expanded our readership over the years. I would like to take this opportunity to acknowledge the overwhelming response of all our readers, the enthusiastic contributions made by our practitioners from around the world, and our dedicated team of editors who work together to ensure this humble venture is rich in content. We look forward to your continuous support and welcome all offers of seva towards the publication of our official newsletter – please connect with us on [email protected].
As reported in the last issue, the think tank formed by the core team of senior practitioners is working towards establishing the Sai Vibrionics Institute which will handle all aspects of the organisation (including admissions, training, certification, research, practitioner support, etc in the future. We are now in the process of registering the institute in the state of Andhra Pradesh. Running an organisation of this scale requires manpower and we are always on the lookout for practitioners who are willing to commit 24/7 to the vibro mission. Whatever may be your area of interest, we can find a role for you and provide adequate training. If you are willing to take up the commitment, do reach out to us at [email protected].
The backbone of any institute is its research department and sound and systemic research is key to its growth. The vibrionics core team has formalised the SOPs for research and is ready to go ahead with detailed studies in the following areas: improving the quality of water with the use of vibrionics, the impact of vibrionics on plants (both for quantity and quality), and the effect of vibrionics on animal health. Practitioners who are interested in working with the research team should email us at [email protected].
For the last few months, we have been focussing on taking vibrionics to rural India. In line with this, a Sai Vibrionics Medical Centre was inaugurated on 14 August 2022 at a residential school for physically challenged children in rural Andhra Pradesh. More details can be found about this wonderful initiative in the In Addition section. Post pandemic-upheaval, most of the clinics and camps have restarted and many new clinics are opening up. Local practitioners have been banding together to ensure the patient base in their area has access to a community clinic or a practitioner whom they can approach in the vicinity. Distribution of IB has become a regular feature now and to date over 250,000 have been dispensed, benefitting more than 750,000 people. I urge you not to discontinue taking or giving out the IB thinking that Covid is no longer a problem. As hundreds of case histories have told us, the efficacy of this remedy has proved to be no less than miraculous, not only for Covid but for general well-being too!
In conclusion, I leave you with this beautiful quote on seva given by our beloved Swami: "The body has to be utilised for service to others. Activity is its main purpose. Krishna says, 'I have no need to be engaged in work but I do work in order to activate the world.' More ananda (bliss) can be won by serving others than what can be got by merely serving oneself. Offer service to someone in need, with open heart and experience the ananda that results. It need not be something big; it can even be small and unnoticed by others. It has to be done to please the God within you and Him"…Sri Sathya Sai Baba, Sevadal Conference, 19 November 1981.
Let us all collectively strive to please the Lord and live in Ananda by serving others to the best of our ability.
In loving service to Sai
Jit K Aggarwal