Polyps in uterus 11585...भारत
---
A 37-year-old woman had bleeding during urination for the past 3 months. Medical tests revealed a 7cm long cervical polyp in her uterus. She was told that recurrence cannot be ruled out even after it is removed by surgery. After trying allopathic and homoeopathic treatments for 3 months without any success, her husband consulted the practitioner by phone.
The following remedy was immediately sent by courier and started on 19 June 2017:
#1. CC2.3 Tumours & Growths + CC3.7 Circulation + CC8.4 Ovaries & Uterus + CC12.1 Adult tonic…TDS
The patient had already stopped all other medicines. The bleeding did not stop even after a month of taking the remedy, though it had reduced marginally. They were advised to approach a senior practitioner11562 for more specific remedies using SRHVP.
The practitioner gave all the details about the patient to the senior practitioner, who replaced #1 with the following remedy on 24 August 2017:
#2. CC2.1 Cancers - all + CC8.4 Ovaries & Uterus + CC12.1 Adult tonic + CC15.1 Mental & Emotional tonic…6TD for one week followed by TDS
#3. SR249 Medorrhinum - 1 dose every three days for one month
Totally disappointed and desperate that there was no change, they called up the practitioner on 26 September 2017 expressing their anguish over their situation. The practitioner calmly consoled them and urged them to continue #2 with faith and patience, and also to pray to Swami from the bottom of their heart. The practitioner also started praying along with another practitioner11592.
On 28 September, the senior practitioner stopped #2 and gave the following after taking into account the disturbed mental state of the patient:
#4. SR249 Medorrhinum + SR274 Aurum Mur Nat 200C + SR318 Thuja 200C…OD
#5. CC2.3 Tumours & Growths + CC8.1 Female tonic + CC10.1 Emergencies + CC12.4 Autoimmune diseases + CC15.2 Psychiatric disorders + CC17.2 Cleansing + #2…6TD for 1 week followed by TDS
Within 4 days, on 2 October, the practitioner received a WhatsApp message from patient's husband that a big polyp and some smaller ones had just then got flushed out from his wife's uterus (see pic).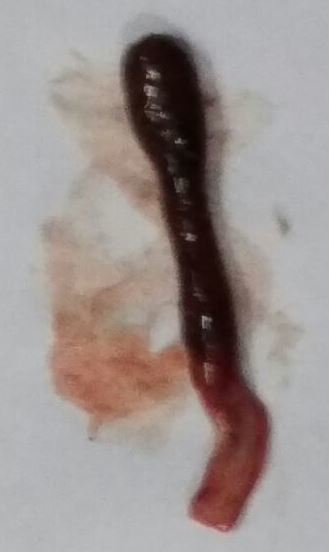 Bleeding stopped the very next day. Soon after that, an ultrasound test was done and the uterus was shown clear as was confirmed by her gynaecologist. The patient continued #5 TDS for 2 weeks and OD for another month and then stopped on 4 November 2017. As of February 2019, she is perfectly healthy.
Inspired by this incident and filled with deep gratitude to Swami, the patient's husband promptly sought admission and became an AVP in February 2018 and later became VP11593. Such is his commitment that he travels 250 kilometres up and down for conducting a monthly vibro camp at the Sai centre in his home town.
Editor's note: As advised by the practitioner, with effect from 15 February 2019, the patient has started taking remedies from her husband - CC17.2 Cleansing…TDS for a month to be alternated with CC12.1 Adult tonic for a year to build-up immunity.
If using the 108CC box, ignore #4 and give only #5 after adding CC8.4 Ovaries & Uterus to it.